Roadhouse Jammin'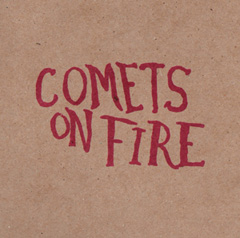 Comets On Fire - Sub Pop Page
Comets' Own Page (rarely ever works)
song:
"The Unicorn/Ice Age"
I found this CD on Ebay (listed as "Rare Comets On Fire Cd") and really expected it to be a burned CD somebody threw together. It had some songs on it that I didn't have so I shelled out $13 for it, fuck it - ya know? Well it arrives today and turns out to be a 6 song, 68 MINUTE ep! It is numbered 929/1000 on the back, and has a hand drawn Sub Pop logo on the insert, so I'm thinking this is a European Tour Single. Fucking sweet. I ripped open the package and immediately my office reeked of some bunk ass 'dro. Obviously packed by a dedicated Comets' and stoner rock fan.
For those not familiar, COF are a band of awesome dudes from southern Cali who will blaze a trail through your mind as they surf on their AZTEC shields spreading magic dust nuggets all over your frontal lobes. The thickest of thick ass bass, a drummer that has the stamina of Keith Moon, guitars and oscillators that will numb even the most active of cerebral centers, and a hippy sensibility that allows them to drone the fuck out if they feel like it - blast your ass if they feel like it - or most importantly just fuckin jam the shit. The track I included here
"the Unicorn/Ice Age"
is the combination of two songs of theirs that was recorded live on WFMU in the summer of 2003. Lay back, and enjoy this 9+ minute (2nd shortest song on the record) giant slayer