Fuck You, Pen Scrawler
Sun City Girls
:
"Liberties"
Hey there. I'm Emerson Dameron. I know some of these cats from college. Thanks to Ryan's magnanimity, I'll be through every so often to lay a little garbage on you. I'll start with a sentimental fave from last year.
2005 was a hectic year for Arizona's Sun City Girls. They put out a holy host of globetrotting mix tapes on their Sublime Frequencies label. Spokesman Alan Bishop curated a Morricone collection for Ipecac. And Uncle Jim, a dada-drunk contrarian and visionary wiseass who appears sproadically through SCG's massive, scattered catalog, finally got his full-length due. For my money, Uncle Jim's Superstars Of Greenwich Meantime (on the KY label Black Velvet Fuckere) is the least hinged stand-up record on the racks. Here's track one, side one. It's ripped from vinyl, so you'll have to sit still for about eight seconds of silence. Still a fuckin' bargain.
Month Of Bob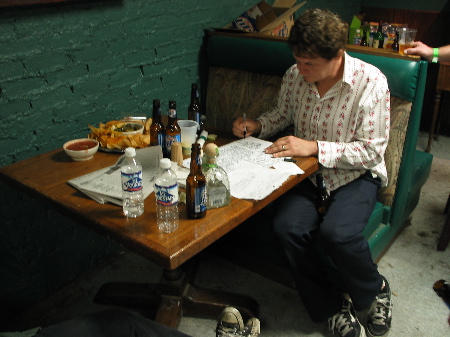 Bob Pollard
"Dancing Girls And Dancing Men"
"Wrinkled Ghost (Demo)"
This is going to be a good year for Bobby. I can feel it. Above are a few songs to get your head right about this statement. The first song is one of the top jams off his new album
From A Compound Eye
out on January 24th. The second is an old demo I found on his site for one of my favorite songs on one of his earlier Matador solo records.
See your drunk ass at the 40 Watt on Thursday the 26th. Fuck yeah Wurster is on drums!