I Am Mesmerized By My Own Needs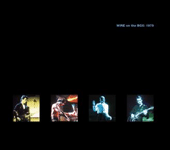 Wire
"Heartbeat"
Wire
"I Feel Mysterious Today"
So
Wire
was/is probably one of the three or four greatest rock bands of all time. It took me a while to realize this, though. Back in high school, we'd hear nattering jackasses like Matt Pinfield and the tired old men at Rolling Stone blabber about how amazingly seminal and fantastic Wire was, and how such incredibly important, hot-shit acts of the then-and-now-forgotten owed so much to these old masters. Pinfield would gush endlessly, and then play some horrible video from the band's early '90's nadir. Since such sources could be counted on to be reliably, insistently incorrect, it would take a couple years and the crucible of college radio disc jockeying for me to realize that Wire really was wonderful, especially on their first two albums.
I bought
Pink Flag
back in 1997, when I was twenty, and thought it was pretty great, but definitely a product of its era. A few weeks later I picked up a copy of
Chairs Missing
, and was absolutely blown away by both its brilliance and its timelessness. Whereas
Pink Flag
obviously arises from that initial 1977 flowering of British punk,
Chairs Missing
, for the most part, could have been released at any point during the last 26 years, or so. Of all the big late seventies British post-punk groups, Wire most presciently foreshadowed (and/or influenced) the American indie-rock of the '80's and '90's that I would cut my teeth on. Finally hearing
Chairs Missing
was like unlocking the past and the history of the music I held most dear.
Anyway, with
Wire on the Box 1979
we can get an idea of what a Wire show was like back between the releases of
Chairs Missing
and
154
. I haven't watched the whole DVD yet, but from what I've seen the band doesn't really care that the audience of bored German teens seems about as listless and disinterested as it could possibly be. The CD is very welcome, indeed, as there's never really been a quality live album from the group, and this one is pretty damn good.
"Heartbeat"
and
"I Feel Mysterious Today"
are two of the highlights. You can buy
Wire on the Box 1979
here
.