the summer before the summer of action was better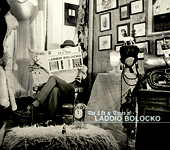 Laddio Bolocko
"Goat Lips"
I saw
Laddio Bolocko
play an incredible show in some guy's basement on the outskirts of Athens back in 1998. One of the band members spent the entire show staring directly into
Scarnsworth
's eyes; at one point only about six inches separated their faces. The music sounded like
Can
and the
Flying Luttenbachers
mixed with free jazz and the best parts of
Trans Am
. It was crazy and amazing and maybe the best house show I've ever been to. I knew very little about them going in, but they were awesome live, so I wound up buying their first album,
The Strange Warmings of Laddio Bolocko
. The first song on the record,
"Goat Lips"
, begins like a Roman triumph, with jubilatory guitars ringing out to proclaim that
Laddio Bolocko
have successfully vanquished the Dalmations, or something. It quickly shifts into a heavy funk-rock that sounds like the theme song to some high-energy tv cop show, before winding up with a couple minutes of droning, repetitive guitar wank. It's like
This Heat
crossed with
Oneida
. It's so good I just want to bash my head on my desktop and let the red stuff flow.
I saw them again with
Trans Am
in 2000 or 2001, not too long before they broke up. They were still awesome, and completely blew Trans Am away. They put out a couple of other albums in 1998 and 1999; all three have been compiled on the two-disc
The Life and Times of Laddio Bolocko
. We hear at MezEcl would recommend this record about as highly as possible. You can order a copy from
Forced Exposure
, if you'd like.