This Ain't Camping, But It Might Be Fun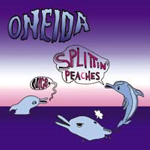 Oneida
"Inside My Head"
The ever-prolific
Oneida
has a new ep,
Nice:Splittin' Peaches
, out on
Ace Fu Records
, and although it can feel a bit brief at first listen, it gradually settles in as a satisfying interalbum diversion. It's not quite as heavy or spastic as some of the band's older work, swapping some of the crank and coke-fueled madness with a slightly more traditional '60's avant-garde vibe. The free-jazz freak-out at the end of "Summerland" (courtesy of Charlie Waters, member of Atlanta-based combo the Gold Sparkle Band) and the swirling guitar and organ of "Inside My Head" sound like hippies jamming on a bad trip, and not like the memory-heavy, primordial psychedelic paranoia-rock Oneida perfected on
Anthem of the Moon
and 2002's incomparable
Each One Teach One
. Final song "Hakuna Matata", the latest in the band's long line of imposing, ten-minutes-plus epics, is an amazing, minimalist drone piece that contains all of "Sheets of Easter"'s time-rescinding static momentum, but without the blunt savagery and terror. It's worth the price of admission all on its own. Anyhow, it's another solid release from Oneida, easily the best band out of New York these last four or five years or so.
You can buy
Nice:Splittin' Peaches
here
, or via PayPal at the
Ace Fu site
.