I'll Listen to Bricks Whenever I Want To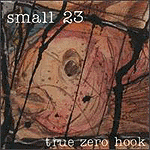 Small 23
"Finding It Hard to Believe That There Was a Floor"
The
Archers of Loaf
were my favorite band in high school. Their first album,
Icky Mettle
, left an indelible mark upon me when I was sixteen. If I had to make up a list of the bands that had the most impact upon me personally, they'd probably be at the top. But this isn't about them. This is about another band that was very closely linked to the Archers, but never garnered a fraction of the attention or success that they did.
Small 23
was also from Chapel Hill, and they also signed to California's Alias Records in 1992. They even shared a member with the Archers, briefly; Eric Bachmann, the Archers' lead signer, was a founding member of Small. Another member, drummer Chuck Garrison, was the original drummer and namesake for Chapel Hill's most notable band,
Superchunk
. But, for the most part, they played out their career with little encouragement and less respect. To be honest, though, they didn't deserve much more than they got. They really weren't that great, especially in comparison to their better-known hometown colleagues. Their first album, 1993's
True Zero Hook
, was their best. Unlike
Icky Mettle
, it wasn't anything spectacular, or even all that distinctive. There were a few good songs among the typical scruffy early '90's indie rock, though, and chief among them is the acoustic "Finding It Hard to Believe That There Was a Floor". It's nothing extraordinary, just a nice, pleasant, pretty little song by a modest, competent little band. Still, though, it's one I've found myself repeatedly going back to over the years. You can probably pick up a copy for a quarter or two through
Amazon
.