I've Been Lovin' Every Night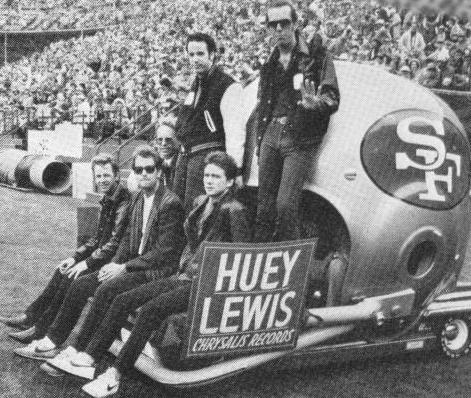 Huey Lewis and the News
:
"Heart and Soul"
I used to have a theory about how anything that was good when you were six is truly good, and will remain good forever. It doesn't pan out in many aspects, but it works with music, for the most part. Not that
Mickey's Splashdance
is any great piece of art, or anything, but it's still fun to listen to. Back in '83 an older brother got big into
Huey Lewis and the News
, and so by extension
Sports
became my first favorite non-Disney record. I'd borrow his cassette and rock out in the living room to "I Want a New Drug" and "The Heart of Rock and Roll". Like Jerkwater, I'd be riffin' on the air-sax, blowing my mind out like an imaginary Johnny Colla, fantasizing about being on stage in front of the Statue of Liberty, or down at
Robards Arena
. To my six-year-old brain, Sports was the greatest rock and roll record ever, primarily because it was the first one I'd ever listened to.
Twenty-one years later (and one week ago) I bought an old vinyl copy of Sports for a dollar. I hadn't listened to this thing since I was in elementary school, but I still remembered every single song, even if the names weren't familiar. Some of it is cringe-worthy, but nothing can diminish the excellence of
"Heart and Soul"
. Its combination of white-guy pseudo-disco-funk, cheery '80's synths, and hard-rocking pop-metal crunch is sublime. It wasn't my favorite as a kid, but in the sober light of adulthood it's probably the best song on the record.
Please forgive the bad rip; I sorta fucked up, and forgot to cut out the ending to "The Heart of Rock and Roll" at the start.