They once chopped my heart the way you chop a tree: Go-Betweens part 4
and yet more from
SA
/
Jerkwater
:
The Go-Betweens
:
"Clouds"
Capitol records signed the
Go-Betweens
for their sixth album,
16 Lovers Lane
. Now they were poised, more than ever, to hit the big time. While a lot of money went into recording the album (produced by famous producer Mark Wallis), the songs were still not compromised in any way. Some may be turned off by the extreme sheen on this record, but it's a good album through and through. This one was the most difficult to pick a song out of, as I could have easily picked 6 out of the 10 tunes to be my favorite one. With that in mind, I don't think it's necessary for me to dissect the song featured.
Of course, they didn't hit the big time with 16 Lover's Lane, although it did produce their biggest radio hit,
"Streets of Your Town"
. Fed up, convinced by themselves and critics and a fervent cult following that they should be huge, they called it quits shortly afterwards. It also didn't help that the two couples in the band (Forster and drummer Lindy Morrison; McLennan and multi-instrumentalist Amanda Brown) broke up. This album's been referred to as the "indie Rumours".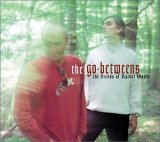 The Go-Betweens
:
"Going Blind"
(M4A File)
12 years go by. Forster and McLennan turn out some solo records to mixed reviews. In the late '90's they tour as a duo in support of the release of
Bellavista Terrace: the Best of the Go-Betweens
. They have so much fun, they decide to make another go at it as the Go-B's. Sleater Kinney, ultimate fans, are at a show where they announce their plans to reform. They offer their services as the backing band. A new day is born.........
How many bands break up for twelve years, reform, and don't sound washed up? The Go-Betweens may be the only one. Especially with having listened to some of their solo records, it's completely amazing how vital and... unwashed up they sound on 2000's
The Friends of Rachel Worth
. Once again, the sound is totally different from any other album, yet it still sounds like the album after Sixteen Lover's Lane.
"Going Blind"
is the single, and one of the catchiest songs McLennan's ever written.