Whatever I Have is Yours, and It's...
More thoughts from
Jerkwater
, aka
SA
: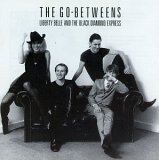 The Go-Betweens
:
"To Reach Me"
So now we stray from the Go-b's "classics," so to speak. I could've picked one of the two obvious choices from '86's
Liberty Belle and the Black Diamond Express
,
"Spring Rain"
or
"Head Full of Steam"
, but this is my favorite song on this album. What is the point of Go-Between's week anyway? Purely for the satisfaction of one Dark Ness and Ess Ey. We just got our first comment today, from the ever-reliable Hillary. This song marks the first example of what would become the definitive Go-B's guitar sound. The guitar lead is a two-note chord melody, most notable at the very end of the song. Most comparisons from newer bands to the Go-Betweens are usually referenced through this guitar style.
This pick was also inspired by it's surprising inclusion on the set lists of their most recent tour. If you like this, you'll have to go visit Crews in Chapel Hill to see them.
The Go-Betweens
:
"Right Here"
Their fifth album
Tallullah
brought them their first, very minor, radio hit...
"Right Here"
. If you don't like this, I can understand, because it does sort of sound like something you'd here in the dentist's office (if you dislike "Cattle & Cane", however, then we have a fundamental difference in musical tastes and I will not take any recommendations from you again). Were they trying to 'go for it'? The simple answer is "absolutely not", although it is speculated that the first single off this record,
"Cut It Out"
, was McLennon's attempt at a radio smash, and the song totally sucks. But classics like "Right Here" and
"Bye Bye Pride"
were just the next step in their evolution. These guys were getting older, more mature, and their music reflected that. Another reason for this more adult sound is the addition of McLennen's girlfriend Amanda Brown, who brought a smorgasborg of instruments into the fold, most notably singing, violin, and oboe.
I shoplifted a cd entitled "Indie Rock", although it was the german words for "indie rock", which I don't know anymore. I know it was called that because I remember wondering what indie rock meant back then at the tender age of 14. Soul Asylum, Sugar, Dinosaur Jr, Ministry, you name it. All the big alternative bands were on it, and now that I know how the music industry works I don't understand how they could license all that music. It was a double disc, 40 song behemoth of a comp, and I loved this song called "Right Here" by a band I'd never heard of called the Go-Betweens. I had designs to even check out some of their albums. However, about six months later I moved back to America and the movers stole almost all of my cd's. I love the "Indie Rock" compilation and my piece of shit memory forgot all about the Go-Betweens. About six years later the Go-Betweens released a 'best of' cd. The band name had been in my subconscious mind since the "INDIE STEIN" days (I just now remembered the word for "rock"), and I was compelled to buy it for reasons I then did not understand. They purposefully left "Right Here" off of the set, who knows why, but the bonus live cd revealed my past to me. When they broke into "Right Here" I shocked myself by immediately singing along to every word.... what a revelation! Within a year I had all of their albums.