all my money and all my drugs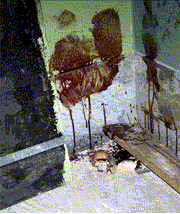 Blood on the Wall
:
"Dead Edge of Town"
Blood on the Wall
:
"Gone"
I've already written a little bit about the new
Blood on the Wall
record
here
.
Awesomer
isn't extraordinary, or anything, but it is one of the better straight-up rock albums I've heard this year. As I mentioned at the
main site
, they sound strongly like something you'd hear on a good college radio station back in the late '80's or early '90's, echoing any number of classic indie-rock bands, but without sounding too much like any specific influence. They're a throw-back that still sounds fresh. Yes sir.
"Dead Edge of Town"
is a bubblegum approximation of
Live Skull
/Kim Gordon no-wavish rock, whereas
"Gone"
recasts "Paranoid" as
Homestead
ian jangle-punk. Practically every other song on
Awesomer
resembles one of these two, which is not in any way a bad thing. I stand by
the three Earl Anthony review
.